9 of the Best Cheap Electric Mountain Bikes (Reviewed)
This post contains affiliate links, to find out more information, please read my affiliate disclosure
Reviews of some of the Best Cheap Electric Mountain Bikes
When most people think about buying an electric bike, versatility is always high on the list.  You can buy a town bike designed for being ridden on city streets, but if you venture off-road, the lack of front suspension can be problematic. In this post I will be reviewing 9 of the best cheap electric mountain bikes, that not only offer value for money, but also the ability to travel on unpaved roads, and light trails.
It should be noted that none of the bikes in my list really qualify for 'proper' mountain bike status. But as versatile hybrid bikes they do the job nicely.
My selection is based on several factors: Value for money, specification, popularity and positive customer feedback.
---
What should I look for in a cheap electric mountain bike?
Electric mountain bikes are popular, because of their on/off road versatility. But not all mountain bikes are made equally and you really need to think about the kind of riding you will be doing.
If you want to tackle challenging downhill terrain, strewn with tree roots, rocks, jumps etc. Then none of the bikes in my selection below will be suitable. You will need to spend a lot of money for a capable downhill e-mtb, and preferably go for a well-know brand like Cannondale, Specialized, Giant, Scott or Cube.
If you are just planning on commuting, with some light forest trails and unpaved roads thrown in, then the bikes below will be suitable for that purpose.
As most of the bikes on my list are at the budget end of the scale, the components will generally be 'entry-level'. This doesn't necessarily mean they aren't any good, but they won't stand up to the rigours of hard off-road riding. As long as you understand this before making a purchase, you won't go wrong.
Electric Motor
All of the bikes on my list uses geared hub motors ranging in power from 350w to 750w. The US federal power limit is 750w which is equal to 1 horsepower.
Geared hub motors are generally very reliable, but the internal nylon planetary gears can wear over time, especially if you are regularly riding steep climbs or carrying lots of extra cargo. Thankfully, these motors are cheap and relatively easy to repair if this happens.
Battery
Battery range is determined by a number of factors: The total energy capacity of the battery in watt hours (Wh) – a 36v 13ah battery has a total energy capacity of 468Wh, meaning that at a constant 468 watts the battery will be depleted in one hour of riding.
You can work out roughly how much mileage you will get based on how many watt hours per mile you are consuming, this figure will differ greatly depending on the power of your motor, what power level you are in and rider weight, wind direction and terrain (hills). Example: If you consume an average of 20Wh per mile, a 36v 13ah battery would be depleted in 23 miles. The higher the Ah rating, the greater the energy capacity and hence a longer range.
---
Here is my list of 9 of the best cheap electric mountain bikes
The NCM Prague is made by Leon Cycles in Hamburg, Germany and used to be sold exclusively in Europe as a 250w ebike. There is now a 350w version made specifically for the US and Canadian markets.
This bike is essentially the same as its European counterpart, but with a 36v 15A controller to increase peak power to 540w. The top speed has also been raised to 20mph in keeping with US federal law.
For the money the NCM Prague is one of the best electric mountain bikes in this selection . It feels well-built, and has a decent spec. It is also available in 26″ / 27.5″ and 29″ wheel options. The tyres are good quality Shwalbe Smart Sam mountain bike tyres, that are at home on or off the road, they also offer a fair degree of puncture protection with Shwalbe's K-Guard.
Conclusion
The NCM Prague 350w electric mountain bike offers decent components, a strong X15 geared hub motor combined with a good quality 36v13ah battery. To top it all off, it's a nice looking bike as well, and looks more expensive. For more information on this great bike, read my full review of the European spec model.
---
The Ancheer electric mountain bike continues to be one of the best selling ebikes on Amazon, simply because it offers excellent value for money.
The bike itself is based on tried and tested technology, and although most of the components are the same as you would find on a $150 Walmart bike, the Ancheer does the job of getting the rider from A to B just fine!
I wouldn't really class this as a mountain bike though, more of a hybrid / commuter bike – it would be foolhardy to try any off-road heroics on this bike as the brakes, and suspension simply wouldn't be up to the job.
But as a cheap and cheerful way to get to work and back the Ancheer 500w is excellent.
Conclusion
As with its lower powered European sibling, this bike is really intended to be used on the road and maybe unpaved / gravel tracks. This upgraded 500w version certainly has plenty of power, and the 36v 12ah lithium battery pack should give you a pedal assist range of around 30 miles. If you don't pedal and just use the throttle, then your range will be below 20 miles, which still isn't too bad considering the price tag.
My only complaint about this bike is the brakes are vague at best, and have a tendency to squeal at times. If you're on a budget and just after cheap transport -then the Ancheer does exactly what it says on the tin!
Read my full review of the Ancheer Power Plus HERE.
---
Ecotric are another familiar budget ebike brand and their cheap electric mountain bike offering is actually pretty good! The Ecotric 500w electric mountain bike has a decent spec for the money. A high-torque 500w geared rear hub motor is powered by a reasonable 36v 13ah Lithium battery pack. The 36v 22A controller should give peak power of around 792 watts, which is plenty enough power to get you up most hills.
The branded Suntour XCT forks are good enough for light off-road riding, they're not brilliant but Specialized and Cube use these same forks on their entry-level mountain bikes. The mechanical disc brakes work, and the Shimano gears index well.
Conclusion
Ecotric have done it again with this great cheap electric mountain bike. It's excellent value for money and has some half decent components fitted. I also like the look of the bike. It costs a bit more than the Ancheer, but for the extra money you get a slightly more powerful battery and, in my opinion a nicer looking bike.
The 500w motor will carry you along effortlessly on the flat at 20mph and you can expect a range of between 18 – 35 miles from the battery depending on usage.
---
The Merax 350w electric mountain bike is another excellent cheap option. The Merax is the cheapest ebike in this group and much like the Ancheer has 'entry-level" components fitted.
As an affordable commuter electric bike, it is one of the best. Simple design, cheap, but reliable 350w geared hub motor and 36v 8.8ah battery pack.  Throw in the usual extras of headlight and kickstand and it's a bargain!
Conclusion
Okay, the Merax 350w isn't going to impress anyone with its speed or off-road agility, but like most of the other budget bikes in this selection, it is designed purely as a tool to get you where you want to go. The motor works well enough, although it lacks the power of other bikes here, and the battery will give you about 25 miles on pedal assist and 15 miles on throttle only. All the cheap components come together to form what is basically a good little bike. Definitely worth considering if it fits your budget.
---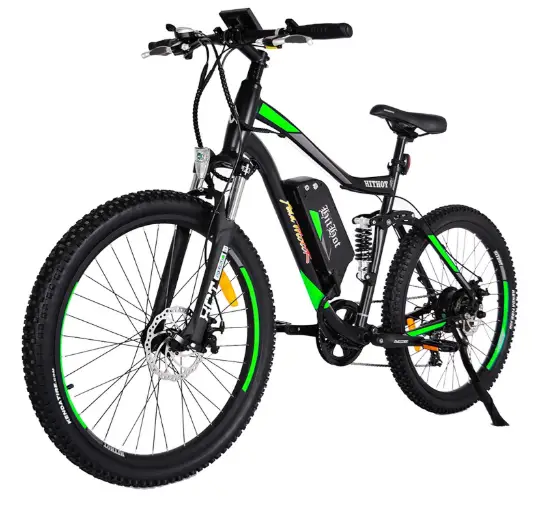 I've always been impressed with the styling and color schemes of the Addmotor range of ebikes and the Addmotor HITHOT 500w full-suspension electric mountain bike is no exception. It is certainly an eye catching bike, but is beauty really only skin deep?
When you get beneath the surface of the HITHOT, it really isn't that much different from the other bikes on this list, with one exception – it has rear suspension.
As this is the most expensive bike in this group by long shot, the question has to be – is it really worth the extra money? Well the rear suspension set-up is quite basic, and although this adds to the overall comfort of riding the bike, it still isn't going to cut it on a downhill trail. For that you're going to have to spend $2000+
Conclusion
The Bafang 500w hub motor is and 48v 10.4ah battery uses high-quality Samsung cells. As far as performance goes, it is no quicker than the other bikes here that are half the price. What you are paying for is a good quality branded hub motor, and a decent lithium battery with branded cells.
The lights and kickstand are a useful touch and the off-road abilities of this bike will be somewhat better than the hardtail mountain bikes in this section. But the rest of the bike is nothing out of the ordinary, although it does look nice, and the rear suspension will take the sting out of pot holes. Is it worth the extra money? That's down to personal choice. The Addmotor HITHOT is a good enough bike, but I would say it's a tad overpriced.
---
The problem with reviewing bikes in the sub $1000 category is they are all much and the sameness. The only distinguishing features are styling and price.
The Rattan 350w electric mountain bike is no exception. It uses the same generic 350w hub motor as other bikes in this post, but the battery does use higher quality LG branded lithium cells, which will last longer and provide a bit more range.
The build quality is also slightly better than expected, and the overall finish of the Rattan is very nice.
The gears, brakes and motor all work as expected on a bike at this price point. Top speed on the flat is about 20mph, and the high-torque motor will give you a helping hand up those hills.
Conclusion
The Rattan is another decent sub $1000 electric mountain bike, is it any better than the rest? In some area's it feels sturdier, but in my opinion it doesn't match the NCM Prague which is in a similar price bracket. Nonetheless it is a good ebike, and has a lot of excellent feedback from satisfied customers. Certainly worth considering.
---
The Cyclmatic CX1 is the one of cheapest ebike's in this post, it is also the least powerful with only a 250w hub motor and 15 mph top speed.
I have previously written a full article on this bike – here is my full review of the Cyclamatic CX1
Personally, I think for what it costs it's okay, but what you are getting in effect is a $150 bike with a motor and battery.
Conclusion
If you are after a cheap hack, to get about on, then this bike will do the job. What it won't do is take a lot of abuse (particularly off-road). The 250w motor and 36v 8.8ah battery will give you a range of about 25 miles. It doesn't go too bad, and if you are not too bothered about speed, then it is fine.
If it was my money, I would save a little extra and spend a couple of hundred dollars more, but if you don't need anything too fancy, the Cyclamatic CX1 will serve its purpose.
---
Now, this is more like it! The DJ electric mountain bike uses the 750w 48v Bafang rear hub motor, and will produce peak power of 1000w making it the most powerful electric bike in this group.
I like DJ bikes, they are made to a high standard, indeed all their bikes have the UL 2849 certification. UL is the highest safety and quality standard recognized by industries and consumers in both the US and Canada.
The 48v 13ah battery uses quality LG cells, and the 48v 750w Bafang rear hub motor can handle double that amount of power.
The power delivery is smooth and fast enough to hustle you along effortlessly at 20mph (limited to comply with federal law). The battery will give you a range in excess of 50 miles if not ridden too hard.
Conclusion
The DJ 750w electric mountain bike is quite expensive when compared to other bikes on this list, but I think it's worth the extra money. The Bafang hub motor has bags of power and you needn't worry about hills ever again.
If you are after a solid commuter bike that will take you to and from work, without having to turn a pedal (on the flat) then this bike will do the job with out any hassles.
---
I had the pleasure of riding the EU spec version of this bike a while back, and the 250w motor felt a lot quicker than the power output suggested – read my full review of the NCM Moscow here.
This is the 48v 500w version, made for the US and Canadian markets. It uses the same motor and battery as the European spec version, but has a more powerful 22amp controller, giving peak power of nearly 800w.
Everything about this bike oozes quality. I have ridden a lot of NCM ebikes and they never fail to impress.
Conclusion
This is, in my opinion the best bike here. It has the build quality, a neatly integrated 48v 13ah battery, decent quality brakes, gears, wheels, tyres and suspension. And it looks great too! It is not cheap by any means, but NCM are an ebike company with a lot of experience  – and it shows with the NCM Moscow. Definitely my choice out of this list.
---
Please follow and like us: