10 Best Electric Fat Tire Bikes
This post contains affiliate links, to find out more information, please read my affiliate disclosure
When it comes to versatility, fat tire bikes take some beating. Whether it's tearing up the sand dunes or ploughing through snow, there's no doubting that fat bikes will go almost anywhere!  in this article I have drawn up a shortlist of the best electric fat tire bikes based on popularity, customer feedback and specification.
Contents:
So what are the top 10 best electric fat tire bikes?
Useful links
---
Electric Fat Bike Buyers Guide
Fat bikes are great fun, but they can be a bit of a struggle to ride due to the extra weight and increased rolling resistance caused by the huge 4″ wide tires.
The traditional fat bike frame is usually rigid with no suspension. The  4″ wide tires are run at a much lower pressure, to enable them to travel on sand and snow.They're great fun, especially with a powerful electric motor to help you along!
Which electric motor is best?
Most fat tire bikes at the lower end of the price range use geared hub motors. These are normally available in power outputs of up to 1500w.
Hub motors are generally very reliable and easy to fix if they do wrong. The success of the hub motor is down to its simplicity.
The only downside is they do not produce the raw power of a mid-drive. Mid-drive motors are much more efficient and transfer power from the crank directly to the rear wheel, is the same way a motorcycle engine would.
Mid-drive motors will produce considerably more torque as the power is transferred using the bike's gear ratios, enabling the motor to spin much faster and hence more efficiently than its hub motor counterparts.
Brakes
All fat bikes in my experience have either mechanical or hydraulic disc brakes. Both have their advantages and disadvantages. Mechanical disc brakes use a cable operated caliper and generally have less bite and modulation than hydraulic brakes. Hydraulic brakes are great, and produce excellent braking, but they can be prone to brake fade under extreme braking.
Battery
The type of battery you have fitted will determine the range of your bike. This is dependant on a number of factors. for example a 48v 13ah battery has a total energy capacity of 624 watt hours. This means at a constant 624 watts the battery will be depleted in one hour. In real-world terms this will vary depending on the power level used, rider weight, wind direction and terrain.
Generally the more power a motor produces, a higher energy capacity of the battery will be required.
Tyres
Most fat tire bikes have 26″ wheels, with the exception of the increasingly popular folding fat bikes that have 20″ tires. Ideally you want a tire that has a certain degree of puncture resistance.
---
Below is my selection of the top 5 best electric fat tire bikes currently available on Amazon:

The Ecotric electric fat tire bike is an excellent budget option, and the specification isn't at all bad for the price. Powered by a 500w brushless geared rear hub motor combined with a 36v 12ah battery, the Ecotric fat bike will give you a range of around 20 miles using just the throttle, and considerably more when using in pedal assist mode.
It's quite a comfy bike – the big saddle combined with the fat tires make for a very cushioned feel. The bike specification is fairly basic, with a Shimano 7-speed thumb shifter and mechanical disc brakes that do the job.
The 500w motor provides ample power and will take you to 20mph without too much fuss. The battery is a generic 36v Dolphin case battery pack and if you ever needed a spare they can be easily sourced.
Conclusion
Ecotric are known for providing half-decent electric bikes for the budget conscious and this fat tire ebike is no exception. It is affordable and provides enough power and battery range to suit most recreational riders or commuters. This is one of the most popular electric fat bikes available and has great reviews from satisfied customers.
Ecotric electric fat tire bike review rating:
Performance:        ⭐⭐⭐⭐
Battery range:       ⭐⭐⭐
Brakes:                   ⭐⭐⭐
---
The DJ electric fat bike is packed full of features including a powerful 750w geared rear hub motor combined with a good quality 48v 13ah battery. The battery pack uses high quality LG Lithium cells which will ensure longevity.
Another real plus point with the DJ is that it is well constructed and has been certified UL 2849 which is the highest safety and quality standard recognised by industries and consumers in both the US and Canada.
This bike looks and feels solid. All the components are entry level, but from well-known brands, like Shimano and Tektro.  The brakes are adequate and the gears index okay.
It's also well kitted out, with all the extras you will need – mudguards, lights, kick-stand and even a suspension seat post.
All this makes for a very comfortable and versatile electric fat bike, that not only looks great, but goes really well!
Conclusion
The DJ electric fat bike is a decent bike for the money with the only real negative being that it is definitely suited to larger riders, and is only available in the one frame size.
DJ electric fat bike review rating:
Performance:        ⭐⭐⭐⭐⭐
Battery range:       ⭐⭐⭐⭐
Brakes:                   ⭐⭐⭐
---
The Ecotric 48v 1000w electric fat tire beach bike is based on the classic beach cruiser look, but with the versatility of fat tires and a powerful 1000w geared rear electric hub motor combined with a decent 48v 13ah lithium battery pack.
To cope with the extra power and speed, this bike comes fitted with hydraulic disc brakes as standard. It also benefits from being incredibly comfortable due to the front suspension forks and large saddle combined with a suspension seat post and up-swept handlebars.
The 1000w geared hub motor provides plenty of power, and it's easy to cruise along at 25mph on the flat. The 48v 13ah battery will have enough energy to give a throttle-only range of approximately 20-25 miles and a pedal assist range of over 40 miles.
Conclusion
All in all this is a really neat looking bike for the money, and it performs as well as it looks!
Ecotric Electric fat tire beach bike review rating
Performance:        ⭐⭐⭐⭐⭐
Battery range:       ⭐⭐⭐⭐
Brakes:                   ⭐⭐⭐⭐
---
Okay, so this isn't really a fat bike in the classic sense. It's actually branded as an electric motorbike, the pedals are really an afterthought! But it can be pedalled without the motor so I guess it is a bicycle (of sorts).
The one thing I really like about this bike is the cool, retro look. It really is a nice looking bike, but beauty is only skin deep!
There is no pedal assist function on this bike (just throttle control) and the motor is a fairly normal 500w brushless geared hub motor. Peak power is a (claimed) 1000w. The 36v lithium battery pack is neatly concealed under the seat and uses high quality Panasonic cells. Although I haven't been able to find the exact energy capacity of this battery, I would imagine it is in the region of 36v 13ah considering the claimed range of 15-25 miles.
Nonetheless, It is a solid well-made machine and the looks are certainly reminiscent of something from the 70's – something that pulls at my nostalgia strings as I was a kid in the 70's!
Anecdotal reports have suggested the rigid frame isn't too great at soaking up bumps, but cruising on tarmac is a lot of fun. The mechanical disc brakes should be adequate for stopping, and the motor is powerful enough to keep you going at a steady 20mph on the flat, although I would imagine anything other than a moderate hill will have the motor struggling.
Conclusion
Overall it's a nice looking bike and has a very solid, well-built feel about it. The power output is adequate, and the brakes do a decent enough job of stopping the bike.  The battery could have been more powerful, but then it wouldn't have been as easy to place it so neatly under the seat.  Pedalling the bike on the flat will help increase the range a little, but with a single gear, I wouldn't want to get stuck at the bottom of a hill with no power!
Super 73 Z1 Electric bike review rating
Performance:        ⭐⭐⭐
Battery range:       ⭐⭐⭐
Brakes:                   ⭐⭐⭐
---
The Nakto Electric fat bike is the least powerful of this bunch, but it is also by far the cheapest. The 300w brushless, geared rear hub motor and 36v 10ah battery are absolutely fine, if you are not in a particular hurry!
This bike is incredibly good value for money, and as long as you don't expect anything too fancy and are just after a cheap hack to get you about, then the Nakto fat bike does just that!
All the components are cheap and cheerful, but it has everything you will ever need on a budget runaround. Things like, mudguards, kickstand and lights are all included in the price.
The motor is okay, as long as you are not planning any steep climbs, and it performs well enough on the flat and moderate hills. The fat tires do a good job of soaking up the bumps and this bike is even okay to take off road.
Battery range is a respectable 20-30 miles, depending on how much assist you use.
Conclusion
If you're not after anything fancy and just want something to get you from A to B without too much hassle, the Nakto Electric fat bike is a good buy.
Nakto Fat tire electric bike review rating:
Performance:        ⭐⭐
Battery range:       ⭐⭐⭐
Brakes:                   ⭐⭐
---
This electric fat bike is available direct from the supplier through Aliexpress and uses the excellent Bafang BBSHD mid-drive electric motor couple with a 48v 15.6ah battery pack.
Anyone who has ever ridden a Bafang BBSHD powered electric bike will know what i'm talking about when I say, these motors are on a different level to the average hub motor. Over 1600 watts of peak power and masses of torque available the second you open the throttle.
The other great thing about this motor is durability. The BBSHD is a motor that can handle a lot of punishment, and you needn't worry about hills ever again!
My only gripe with this bike is, I feel that they should have fitted decent hydraulic brakes at this price.
Conclusion
This bike looks great and has a fantastic motor and battery specification, but is let down by a poor choice of brakes. These can be easily upgraded to hydraulics, but these should be already fitted at this price.  As this bike is only available direct from China, it is likely that delivery will take a fair while. It may be better to find a good fat bike and buy the motor and battery from a local supplier and build your own BBSHD powered fat bike.
Eurnorau Bafang BBSHD Electric fat bike review rating:
Performance:        ⭐⭐⭐⭐⭐
Battery range:       ⭐⭐⭐⭐
Brakes:                   ⭐⭐
---
The BPM F-95 fat tire electric bike is another well kitted out machine. This model benefits from front and rear fenders, lights, pannier rack, mechanical disc brakes and a powerful 1000w direct drive rear hub motor. The deal clincher with this bike is the high capacity 48v17.5ah integrated battery pack, that uses good quality Samsung cells.
My only real gripe with this bike is the choice of motor. This bike uses a direct drive hub motor. There are positives and negatives to this kind of motor.
The main positive is excellent reliability – direct drive hub motors do not have a planetary gear system, so will just keep on going. This unfortunately comes at a cost as these motors do not produce as much torque as their geared motor counterparts and are less efficient. This means you will not get the same battery range as you would with a geared motor.
Another big negative is that a direct drive motor will not be as good at climbing steep hills as a geared motor.
Conclusion
The BPM F-95 isn't a bad bike for the money, although at this price point I would expect to see hydraulic brakes and a geared hub motor. It's true that direct drives are generally bullet proof and renowned for longevity, but this is outweighed by reduced efficiency and hill climbing abilities. The 48v 17.5ah battery should give you a range of about 25 miles using the thumb throttle (on flat ground) and up to 50 miles using pedal assist.
It is a nice looking bike and seems to be well constructed. There is also the potential to increase the power of the motor by fitting a more powerful controller. Theoretically this motor should be able to handle 1500w – 2000w with ease.
BPM F-95 1000w Electric Fat Tire Bike review rating:
Value for money:  ⭐⭐⭐
Performance:        ⭐⭐⭐
Battery range:       ⭐⭐⭐⭐
---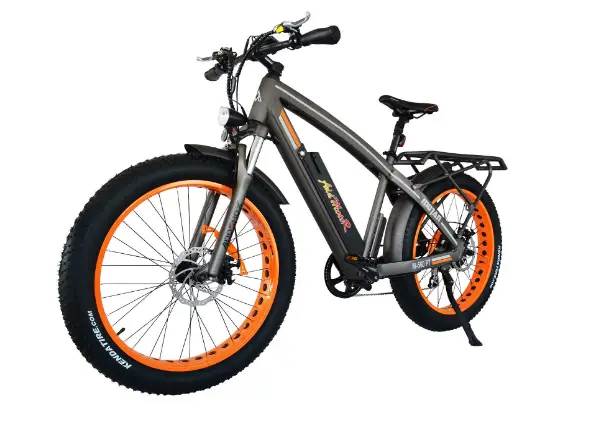 The first thing that struck me about this bike was the great color scheme. It's probably not to everyone's taste but I think it looks good.
The Addmotor Motan 750w fat tire ebike has everything you need for weekend adventures in the wild! The excellent Bafang 750w geared hub motor produces bags of torque and the 48v 11.6ah battery should have enough power to give you a range of between 40-50 miles depending on how heavy you use the power. If you are just using the throttle expect the range to drop to around 20 miles.
Conclusion
The Addmotor Motan Fat Tire electric bike is on of the better bikes in this selection. The Bafang 48v 750w hub motor is a tried and tested unit that has been fitted to thousands of electric bikes all over the globe. The battery is of good quality and the brakes do the job well.
The fact that this bike comes out of the box fitted with every extra imaginable is another big plus point. The build quality is good and I love the color scheme. Although it is at the dearer end of the scale it is still one of my favourites in this selection.
Addmotor Motan 48v 750w electric fat bike review rating:
Value for money:  ⭐⭐⭐⭐
Performance:        ⭐⭐⭐⭐
Battery range:       ⭐⭐⭐⭐
---
The Cyrusher XF800 1000w fat tire ebike is the highest spec model in this selection, but it is also the most expensive. The geared hub motor produces a whopping 1000w+ of peak power and is served by a rather modest 48v 13ah Lithium battery pack.
This bike benefits from front and rear suspension, something I don't feel is particularly necessary on a fat tire bike, however it does make for a 'magic carpet' ride and the suspension does an excellent job of adding to the bikes off-road riding capabilities.
The entry-level hydraulic brakes are decent enough and provide good bite and modulation.
Gearing is courtesy of Shimano's entry level 7-speed rear derailleur and freewheel. Giving a rather limited gear range, although this isn't a problem on a bike with this amount of power.
The SW900 LCD display is easy to use and gives you all the information you need, such as speed, mileage, battery range and even power output in watts. There are different power levels to choose from starting with ECO going up to TURBO for full power.
It was disappointing not to see a more powerful battery fitted to a bike of this price, I think a 48v 17.5ah battery would have been a better choice. That said, the range is decent enough for most people at around 25 miles for throttle only operation and up to 50 miles using ECO mode pedal assist.
Conclusion
The Cyrusher XF800 certainly has a lot going for it. For your money you get a lot of bike, but all the components are fairly entry level. The electric motor produces more power than most people will need on a fat bike, and being a high torque geared hub motor it outperforms similar direct drive motors.
The addition of suspension at the rear, combined with a gel saddle and the fat tires makes for an incredibly smooth ride, even when riding off-road.  I think if your budget can stretch to this and you want a durable 'go anywhere' bike then it's certainly worth a look.
Cyrusher XF800 1000w electric fat tire bike review rating:
Value for money:  ⭐⭐
Performance:        ⭐⭐⭐⭐⭐
Battery range:       ⭐⭐⭐⭐
---
Another fat tire bike from the Chinese manufacturer, the Cyrusher XF600 500w / 1000w fat tire electric bike has a reasonable specification for the money, although there have been concerns raised about the durability of the front suspension forks on this bike. Which is a shame, as they didn't really need to fit them. Most high quality fat bikes have rigid CroMo forks which offer both strength and flex.
The rest of the bike is fairly standard at this price, the 48v 1000w motor produces plenty of torque, and the 48v battery will give you a range of around 20 miles using just throttle. It should be noted that the cheaper 500w version is also plenty powerful enough to carry you along at 20 mph on the flat.
Conclusion
Having read some of the reviews, I am a little concerned about reported issues with the front forks. I definitely cannot recommend this bike for serious off-road riding, but it will be fine for riding light trails.
Generally customers who have purchased this bike seem to be impressed with it. It looks nice and is available in a variety of color schemes.
The riser handlebar is a nice feature and the clear SW900 LCD display gives you all the important information you will need.
I think it's a good enough buy, but if you are going to be doing serious off-road riding you may want to consider a rigid frame fat bike or at least something with better quality front suspension.
Cyrusher XF660 1000w electric fat tire bike review rating:
Value for money:  ⭐⭐⭐
Performance:        ⭐⭐⭐⭐⭐
Battery range:       ⭐⭐⭐
Brakes:                   ⭐⭐
---
Please follow and like us: