I have compiled a comprehensive list of some of the best electric bikes for sale on Amazon, this table covers all budgets from under £500 ($650USD) all the way up to over £7000 ($9150USD).
If you decide to purchase one of these bikes and click on 'BUY NOW' you will be taken to the Amazon website of your locale. I receive a small commission off Amazon for referring customers, and you will pay no more or less than if you visited them directly.
Set yourself free! Experience the Joy of owning an electric bike
I have spent hours trawling the net to find the best deals available, and have hand-picked all the electric bikes listed. A lot of the cheaper bikes are very popular and their review rating out of 5 stars is a reflection of their reviews on Amazon. On some of the more expensive bikes, I have given them ratings based on my own personal opinion and experiences with those bikes (particularly the Haibike).
I have chosen e-bikes to suit all ages and genders. Please see the list below for a description of each bike by type:
Electric commuter bikes – For example the Cyclamatic GTE pro electric bike have a low step frame for easy entry, particularly suitable for ladies, or older riders. Generally these bikes are very comfortable to ride and are suitable for the daily commute. They usually come equipped with mudguards and a luggage rack, and sometimes lights.
Folding electric bikes – these bikes are like traditional folding bikes with the added bonus of electric assist. They can usually be folded up in a matter of minutes, and will fit on a train journey easily or in the boot of you vehicle.
Electric mountain bikes – Such as the NCM Prague are usually design to be ridden on rough terrain, but most are suitable for on or off road riding. They are usually of robust design and have front shock absorbers to dampen the lumps and bumps.
Electric Fat Bikes – Fat bikes are similar in design to mountain bikes, but have 4 inch wide tyres, usually run at a much lower pressure, to enable them to travel on sand and snow. They are great fun, especially with a powerful electric motor to help you along.
Hybrid / trekking e-bikes – Like the NCM Milano, are truly versatile and are equally at home on smooth tarmac or rough gravel tracks. Most hybrids, have some form of suspension on the front, and usually road wheels (700c) but with chunkier all-terrain tyres fitted. If your route to work involves unpaved roads, then you might want to consider one of these. They are also great fun for weekend exploring.
Electric Cargo Bikes – these are excellent for carrying goods, or even your children. Electric cargo bikes are fantastic, because you really need a bit of help when pedalling one of these due to the extra weight.
Electric Trikes – There is one electric trike on the list (apart from the cargo bikes). These are excellent for people with balance issues, and are usually robust and comfortable.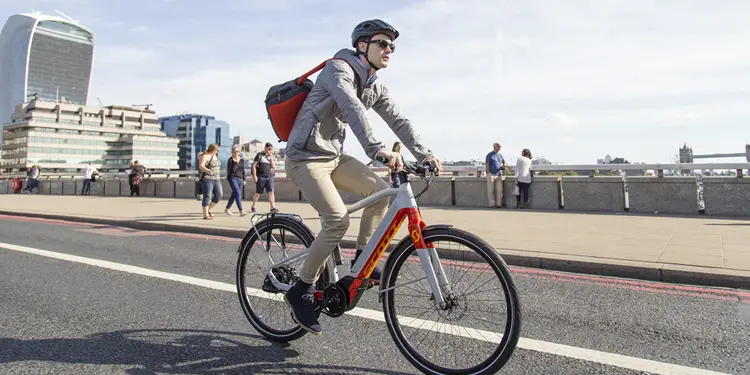 Please note: In my table of the best electric bikes for sale – most of the e-bikes listed comply with UK and EU law, but there are a few in there that exceed the 250w limit. Be warned that if you purchase a 1000w Fat Bike, it would not be legal to use on the roads, but could be used on private land.
I have included some more prestigious brands like Haibike, as their bikes are truly excellent and use either the Bosch CX performance line mid-drive motors or the Yamaha Sync drive system.
Apologies for the small product images, I will be adding an image zoom feature later this week.
The list below has been sorted in price ascending order starting with the cheapest.
If you require advice on any of the products below, please do not hesitate to use the contact form at the bottom of this page.

If you need any help or advice before making a purchase, please feel free to contact me below. I will aim to reply to your message within 24hrs.